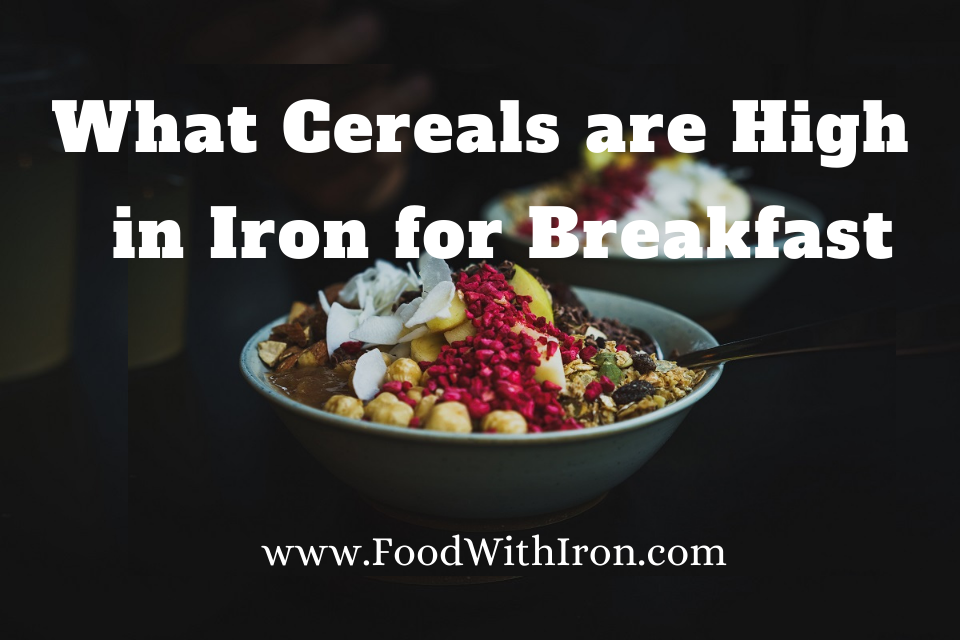 If you have ever been wondering about the cereals high in iron and you wish to know which ones you should look to in order to improve your iron levels, or which ones to avoid to decrease your iron levels, then you have come to the right place.
Here, we are going to talk you through exactly what it is that makes breakfast cereals high in iron, as well as bringing you a top five list of breakfast cereals high in iron. So let's get to it.
What Breakfast Cereals are High in Iron?
Now when it comes to determining what types of breakfast cereals are high in iron, it is worth noting some of the ingredients which are going to boost the iron levels of your cereals.
When you head to the supermarket to do your weekly shop, make sure that you take the time to look through what goes into your cereal.
See Also: Eating Healthy Foods for Superb Lifestyle – Updates for Teens!
An iron-rich cereal will have ingredients such as wheat, oats, corn, and barley, as well as quinoa for those of you on a superfood kick.
So take note of the ingredients and let them guide you on your search for the perfect breakfast cereal.
Top 6 List of Cereals High in Iron for Breakfast
So you know what ingredients to look out for in cereals high in iron and now we are going to give you a rundown of our top five list of breakfast cereals high in iron. We hope this helps you to make better breakfast choices.
Cornflakes
First, up for you, we have the classic favourite of many homes across the world, cornflakes.
While the iron content is likely to differ slightly from brand to brand, it has been reported that the average one-cup serving of cornflakes will make up 47% of your recommended daily iron allowance. Now that is high.
Wheat Flakes
This is another breakfast cereal that a lot of family homes love, but it is also another breakfast cereal high in iron.
According to research, a one-cup serving of wheat flakes can have as much as 8.1 mg of iron in it, which makes up around 102% of your daily recommended iron allowance. Even higher than cornflakes.
Breakfast Oats
Breakfast oats have become very popular in recent years, as the world goes on a health and fitness binge, but many people are not aware of the amount of iron in these oats.
If you were to eat just one pack of breakfast oats, it would contain up to 6.3 mg of iron, which is around 77% of your daily recommended iron allowance.
Bran Flakes
Now this one is absolutely huge and puts all of the rest to shame, as eating just one cup of bran flakes will give you as much as 11 mg of iron, which is around 142% of your daily recommended iron allowance.
So the next time you reach for the bran flakes, remember this list of breakfast cereals high in iron.
Quinoa
It is fair to say that quinoa is not exactly a breakfast cereal, but with superfoods becoming ever more popular we are seeing more and more people turning to this iron-rich food.
However, when you consider the fact that one cup of quinoa is only around 2.8 mg of iron, which is around 15% of your daily recommended iron allowance, it really doesn't sound like much at all.
Grilled cheese
Breakfast is the most important meal of the day, and there is nothing better than a delicious, hearty grilled cheese sandwich! Whether you're in the mood for a classic, like a blue cheese and bacon, or something a little more creative, like a wild mushroom and brie, there's a grilled cheese sandwich for everyone.
Grilled cheese is a classic dish that can be made with many different types of cheese and bread, so there's really no limit to what you can create. If you're new to making grilled cheese, start with a classic, like blue cheese and bacon, and then experiment with different flavors and ingredients to create something truly unique.
Whether you're eating breakfast on your own or as part of a breakfast sandwich buffet, grilled cheese is always a delicious and satisfying option.
Can Breakfast Cereals Rich in Iron Cause for Complications?
Since the possibility of complications depends on many factors, we cannot exactly say it is not so. It means, there might have one or a few adverse reactions ones you get adhere into a dish of cereals high in iron every morning.
Probably, you may be waiting to know what are those and how to overcome the issues. So, as the first step, you should touch every depth of the possible drawbacks. Otherwise, you would not be able to cope up with the everyday challenges after a high-iron breakfast cereal.
Yes! Here is a few such bad luck to go through. But, it is worth to emphasize having high-iron cereal may gift you thousands of benefits than these minor tolerable and negotiable adverse reactions.
See Also: 6 The Best Exercises for Abs for a Smarter Figure!
So, let's have a look at such a bad experience you might have to face after having iron-rich breakfast cereals.
3 Commonest Side Effects After Iron-Rich Breakfast Cereal diet
Constipation
Often, you might be experiencing the urge to push with a pain in your lower stomach after breakfast. So, you will have to suffer a bit with the difficulty of stool passing.
Yet, if your body has considerably higher iron demand, you don't have any other choice other than having these iron-rich cereals.
Nausea and Vomiting
Yes! You might feel like food intolerance within the first few days after begins to have breakfast cereal iron foods. Sometime, this may mostly similar to gastritis-related symptom.
Yet, it says only a minority of individuals may suffer from burning like sensation inside the stomach. So, sometime, it may relieve easily without causing severe pain and difficulty.
Headache
If the food intolerance goes a bit bad, it may even lead to a headache. But, this will experience only by a few individuals. Similarly, when a case of consuming large portions, often, it might end up with headaches.
However, this might not be a serious issue for experts who used to have breakfast cereal high in iron.
Does the Breakfast is Good to have Cereals that are High in Iron?
Yes! You have three meals a day. So, why the breakfast is perfect for cereals with iron? Why you can't avail the same benefits through lunch or dinner? Or else, you may even use it as a snack. Isn't it?
Yet, almost all the recent studies have said the best time to have high-iron foods is in the morning. And possibly for an empty stomach is better.
Thus, the experts suggest having this breakfast choice even before bed tea. Finally, if you would, it is better to have some Vitamin C source to enhance the absorption of iron in maximum.
The Takeaways for a Healthy life!
The breakfast cereals rich in iron is always preferred for people who suffer from anaemia and related issues. Similarly, the women can have this morning diet during their periods to fulfil iron needs due to heavy blood loss.
See Also: 5 Must Know Heart-Healthy Snacks for Future Generation!
The heard workers and kids also have a higher demand for iron. So, basically, it is good to have a breakfast rich in iron every morning by all.
Yet, we suggest you, have the advice from health personnel for personalized prescription in iron needs. It will greatly help you to boost your health!
So there you have it. If you are looking for cereals high in iron, either to enjoy or to avoid, then we hope that our list has helped.
Always remember to make sure that you enjoy a healthy balanced diet and get the right amount of exercise to live a long and happy life. Read here more about the iron-rich food recipes with 5 most beneficial for all ages.

Don.t Miss
Discover the fascinating world of zero-calorie foods in this comprehensive guide that covers everything...

Explore the transformative potential of ketamine as a groundbreaking treatment for depression in this...

Home-delivered smoothies are redefining the essence of healthy living in our fast-paced world. Offering...