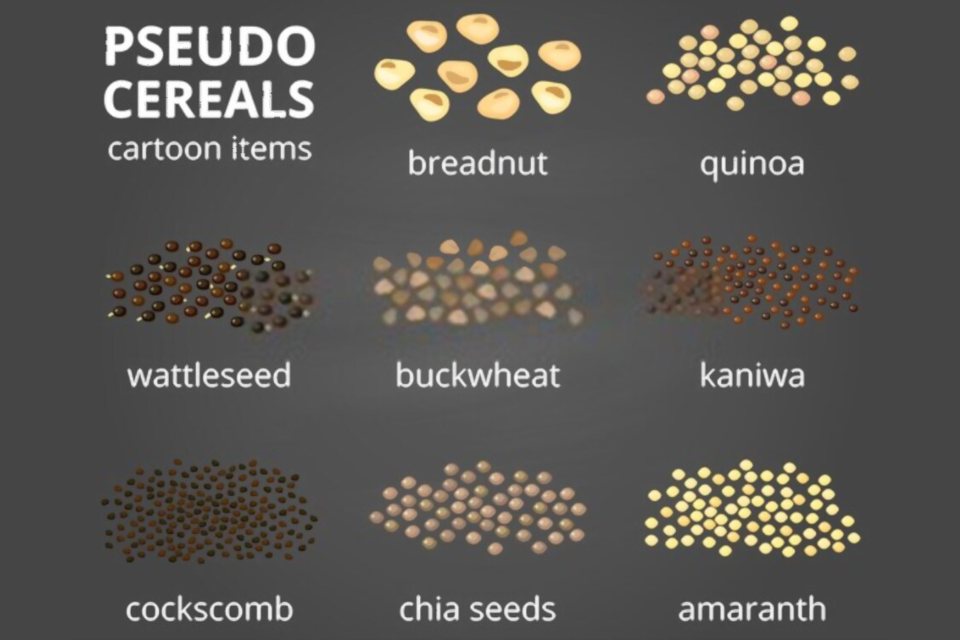 Have you heard about "Pseudo grains" before? Even though some of you have heard about this, most of you may not know the different types of Pseudo grains and their benefits. Pseudo grains and cereal grains are similar in many aspects. The main difference here is that these grains are gluten-free. In addition to that, Pseudo grains can be used in place of whole grains due to their nutritional value.
What are the health benefits of Pseudo Grains?
Pseudo grains can be used in place of whole grains because these grains are high in protein. Apart from that, these grains include iron and vitamin B.
Pseudo grains are also rich include calcium, carbohydrates, and manganese too. Following are some of the health benefits of Pseudo grains
Boosting immunity
Lower cholesterol, blood sugar, and diabetes
Good for heart diseases
Reduces the danger of cancers
Controls our body weight
So, we will discuss some of the Pseudo grain types and their benefits here.
What are the 06 Pseudo Grains?
Now we will provide you with six pseudo-grains that will help you to keep your body healthy and safe.
01. Amaranth
Amaranth grains are rich in vitamins, minerals, and proteins. If you add Amaranth for one meal, it will take care of your daily manganese requirement. So, think about the nutritional value of this. Manganese helps for the proper functioning of the brain.
This contains more fiber and allows us to reduce our body weight too. Many try to reduce their body weight through various methods. Just try and practice this. You will see the difference soon with positive results.
A high proportion of antioxidants in Amaranth protects you from heart diseases and cancer too. This also contains vitamins A, C, and E, which help to keep our body healthy.
02. Quinoa
This was treated with lots of care in the past. Quinoa was also treated as a sacred grain by our ancestors. Vegetarians obtained all that they needed in terms of nutritional value from this grain. It contains amino acids and proteins. In addition to that, this grain is gluten-free too. Quinoa helps to control our blood sugar levels also.
So, apart from its nutritional value, Quinoa provides many health benefits too. This grain contains amino acids, vitamins, and essential minerals and takes care of our daily requirement of proteins and vitamins for the body.
03. Buckwheat
This grain also contains essential vitamins like A, B, and proteins. More than its nutritious value, Buckwheat provides us many health benefits. The vitamins and minerals included in this help to prevent heart diseases and lower cholesterol levels in our body. The vital vitamins here also helps to reduce our diabetes and asthma levels too.
Apart from that, the manganese included in Buckwheat helps to boost our immunity levels in our body and helps in food digestion too. So, think about the nutritious and healthy value of this.
04. Chia Seeds
Chia seeds contain fiber, proteins, and antioxidants. In addition to that, they also include Omega 03 fatty acids as well. Chia seeds are commonly used in making puddings. Chia seeds are naturally tiny and tasteless.
We can put them into meals to add extra nutritious value. On the other hand, Chia seeds can absorb water in large quantities. This is a unique feature of this. It can almost absorb about 12 times its original weight in liquid.
05. Wattleseed
This is another grain that belongs to the Pseudo grains family. It is believed that there are about 120 species of this seed and have different nutritional values one to another.
Wattleseed also contains vitamins, minerals, proteins, and fiber. Here we need to roast the seed before use.
After that, it gets a nutty flavor and can be added for meals. As there is a considerable amount of flavor, we recommend adding only a small amount of Wattleseed to meals to complement better with other ingredients in the meal.
06. Breadnuts
Breadnut is also called Maya nut and Ramon. Some believe that this has come to form the breadfruit tree and while some consider this as a different version of a seed.
Breadnuts are often boiled in salted water for some time before use. Breadnuts are much harder than other grains on the list. Like others, this also contains many vital minerals, proteins, and minerals.
We recommend you to take this in small amounts as the grain's hardness will sometimes cause digestive issues. So, we have provided some vital information about Pseudo grain's health benefits. Apart from that, we have also provided 06 Pseudo grains with details.
Pseudo grains are often used for meals, and we have identified many health benefits from having these grains. Therefore, consider adding these grains to your meals to lead a healthy life.

Don.t Miss
The topic of kidney failure is one that is often shrouded in misunderstanding and...

Discover the essential guide to understanding the early signs of gallbladder issues, from its...

Dive into the transformative world of modern dental care with our comprehensive guide, "The...